Welcome from the Executive Headteacher
Welcome message from Dr John Ivens, Executive Headteacher.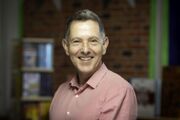 The governors, staff and I are delighted to introduce you to the work of our school.
Maudsley and Bethlem Hospital School is a local authority special school which provides educational support for children and young people aged 4 to 18 who are patients of the hospitals.
We provide personalised learning and support for pupils so that they are enabled to make rapid progress in their learning and emotional well-being. Our teaching and support helps our pupils transition successfully back to their home school or on to the next phase in their learning.
We support pupils in regaining their self-confidence, self-esteem, and giving them the resilience and tools to be able to cope in their chosen educational or vocational destination. We believe that all our pupils can achieve, enjoy and move on from current challenges.